Press, Reviews and Achievements
Reviews:
April 28th, 2017 – "The whole game feels very warm, like being transported back to an idyllic childhood." – gamezebo.com
April 28th, 2017 – "ノスタルジックな雰囲気にひたりながら、まったりと楽しめる超オススメの良作です♪" – isuta.jp
April 27th, 2017 – "…mudah dan ramah untuk semua usia." – makemac.com
April 25th, 2017 – "…là một tuyệt tác, một bức tranh thật sự trên Mobile mà bạn sẽ thấy phí cả cuộc đời khi một chưa lần thử qua." – gamehub.vn
April 24th, 2017 – "Ce jeu sur iPhone et iPad sera en tout cas idéal pour tous les adeptes de puzzle game corsés sur fond de musique zen !" – kickmygeek.com
April 24th, 2017 – "A cute, but repetitive, puzzler." – pocketgamer.co.uk
April 22nd, 2017 – "Starsi również odnajdą się w tym świecie i wraz z młodymi miło spędzą czas rozwiązując wszystkie zagadki." – antyapps.pl
April 20th, 2017 – "Malgré son univers enfantin, Evergrow: Paper Forest et ses 50 niveaux risquent de vous occuper un bon moment!" – iphonesoft.fr
April 19th, 2017 – "Ein kniffliges Puzzle mit 50 Leveln & einer süßen Aufmachung" – appgefahren.de
April 19th, 2017 – "WUNDERSCHÖN UND TIEFGRÜNDIG" – iplayapps.de
January 14th, 2017 – "Evergrow is a beautiful, relaxing and surprisingly challenging puzzler…" – alphabetagamer.com (PC Version)
Press:
May 4th, 2017 – Top 12 mobile games of the week May 2017 – mobilestartupz.com
April 20th, 2017 – 12 New Mobile Games You Need to Play This Week – gamezebo.com
April 19th, 2017 – New iPhone Games on Our Forums: 'Evergrow: Paper Forest', 'Get Me Outta Here', 'Office Space: Idle Profits' and More – toucharcade.com
April 19th, 2017 – ノスタルジックな雰囲気の一筆書きパズルアプリ『Evergrow: Paper Forest』、4月中にリリース予定 – isuta.jp
April 18th, 2017 – The Upcoming 'Evergrow: Paper Forest' Is a Lovely, Imaginative Puzzle Game – toucharcade.com
April 18th, 2017 – A child's desk transforms into an isometric puzzler in Evergrow: Paper Forest – pocketgamer.co.uk
April 17th, 2017 – история в стиле оригами – app-s.ru
Game info
Release Date: 19th April 2017
Platform: iOS
Evergrow Paper Forest is a cute and heart-warming puzzle game with subtle messages about the environment and life. Players take the role of being a Paper Rabbit which is to be guided to hop on to all empty tiles. As the rabbit hop on to each tile, grass will grow, consequently. Hop to all tiles and the forest will grow. Be sure to utilize special tiles while avoiding obstacle tiles in order to complete the objective.
Planning and thinking ahead before committing into a move is crucial to have to play the game. Fortunately, the game does not punish you for making a mistake, rather, it allows players to repeat and reset the puzzles infinitely until they solve it.
Furthermore, having children-friendly musics and visuals, the game is readily playable for the younger audience. Parents and children can team up and have fun together to solve the 50 puzzles in Evergrow.
=== FEATURES OF EVERGROW PAPER FOREST ===
Over 50 unique and challenging puzzles
Stunning and cute visuals
A story waiting to be unfolded
5 special tiles and 2 obstacles that will spice up each puzzle
Relaxing music that adapts to the story as you progress
No time limit – solve the puzzles at your own pace
Special Tiles



Obstacles
=== HISTORY OF EVERGROW PAPER FOREST ===
The game started as a playable prototype based on a puzzle from the game Machinarium. We took the prototype to the Tokyo Game Show on September 2016 and was received very warmly, prompting the team to pursue the idea as a full-on project. As a result, graphics were completely remade from the store-bought ones used in the prototype while additional game mechanics were implemented to spice the game up.
Our team posted Evergrow on Steam's Greenlight platform on January 6, 2017. Steam, via the gaming community, officially approved and greenlit the game on January 25, 2017 as well as received noteworthy features from itch.io and warpdoor.com.


In conclusion, sit back, relax and solve puzzles in this cute atmospheric game that is Evergrow. Guide the Paper Rabbit to fill all tiles with grass while avoiding obstacles and using special tiles.
Preview Trailer
Walkthrough Videos
Walkthrough – Chapter 1, Levels 1-9 courtesy of App Unwrapper (spoilers ahead)

Promo Banner – 1280×720
App Icon – 1024×1024
Animated GIF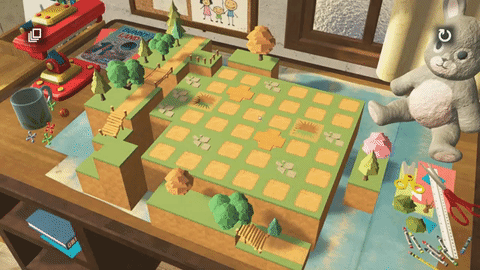 Screenshots – 1920×1080