Game info
Release Date: 29 September 2016
Platform: iOS
War of Three Kingdoms is an action-packed hack-and-slash game that features popular heroes and storyline from the Romance of the Three Kingdoms series (AD 220-280). If you enjoy Dynasty Warriors series by Koei in the past, you will definitely be in for a treat with War of Three Kingdoms.
Features:
8 chapters that consist of multiple battles
Over 100 battles in total
6 different battle modes from defending your castle to bloodbath melee
Unlock up to 8 legendary heroes from the series
20 Quest items to help you win your battles
15 Consumable items for instant boost!
Level Up, RPG-style
Daily Rewards
Classic retro pixel graphics artwork
Perfect touch control without any virtual arrow keys
Explosive action and animation
…and much more!
Prepare to take part in the Epic Struggle during China's Three Kingdoms era marked by chaotic fighting between three rivals states of Wei, Shu and Wu.
More artwork, screenshots and video trailer is coming soon. Stay tune!
War of Three Kingdoms Announcement Trailer
Promo Banner – 1200×720
App Icon – 512×512
Animated GIF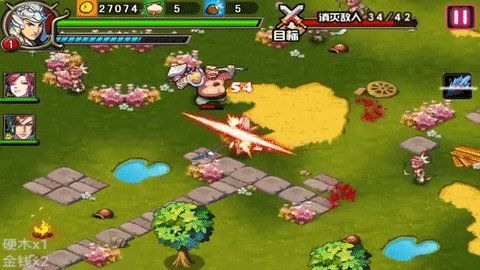 Screenshots – 1920×1080