Press, Reviews and Achievements
Achievement:
August 01, 2018 – Featured under the Daily List "Build a Deck, Battle it Out" on the App Store in the US
July 26, 2018 – Featured under "It's in the Cards" category on the App Store in US and Canada
March 29, 2018 – Featured as "Best New Game Updates" on the App Store in 52 countries including US and Canada
February 09, 2018 – Featured as "Best New Game Updates" on the App Store in 36 countries including US and Canada
February 03, 2018 – Featured as "Trending Apps" on the Google Play Store in Russia and Ukraine
January 26, 2018 – Featured as "Gaming Fever Friday" in the Mobango Website
January 12, 2018 – Featured as "Best New Game Updates" on the App Store in 47 countries including US and Canada
January 12, 2018 – Featured as "Trending Apps" on the Google Play Store in Brazil
December 08, 2017 – The 8 Best Free iPhone Games of the Week – http://bgr.com
Review:
January 12, 2018 – …don't think twice and cherish this madness by playing it, download now. – mobango.com
January 05, 2018 – …surpreende no meio de vários jogos de cartas – baixaki.com.br
December 22, 2017 – One of the best card game with strategy and planning – free-apps-android.com
Press:
February 14, 2018 – The best iOS and Android updates this week – pocketgamer.co.uk
December 15, 2017 – 9 Tips, Tricks & Cheats to Build a Powerful Deck – levelwinner.com
December 12, 2017 – Cheats: Tips & Strategy Guide – touchtapplay.com
December 7, 2017 – Еще одна ККИ Runewards похожая на Hearthstone вышла на iOS во всем мире – app-time.ru
December 7, 2017 – New iOS, Android, and Nintendo Switch games out this week… – pocketgamer.co.uk
December 6, 2017 – New iOS Games on Our Forums… – toucharcade.com
December 6, 2017 – Runewards : Bản sao của Gwent chính thức ra mắt – www.xemgame.com
December 5, 2017 – 'Gwent'-Like 'Runewards' Is Out Worldwide – toucharcade.com
October 16, 2017 – Runewards is a Gwent-like competitive card game, coming to iOS later this year – pocketgamer.co.uk
September 29, 2017 – 'Gwent'-Like 'Runewards' CCG Looking for Testers in Our Forums – toucharcade.com
Game info
Release Date: 5th December 2017
Platform: iOS
Runeward is a fantasy themed strategy card game that will challenge your tactics and wits in order to outsmart and outplay your opponent in order to win the battle. Anticipating your opponent's next move is critical in winning the battle. Should you pass and save your trump cards for the next round or try to muscle it out in the first round? The choice for your destiny is yours!
=== FEATURES OF RUNEWARDS STRATEGY CARD GAME ===
Build your own deck
Earn or buy new cards to gain advantage against your opponents
3 Races to choose from, each with its own unique heroes, units, abilities, spells and mechanics
Over 150 cards to collect with 4 types of rarity ratings
Single player mode against computer's AI
Multiplayer mode in an unranked matches
Compete in Seasonal leagues for rewards
Daily quest and rewards
Vibrant visuals and engaging voice over and sound effects
… more features to be announced
Runewards are played in a round of best of 3 format. Choose your strategy wisely. Play patiently and smartly to emerge victorious!
Official Trailer
Cinematic Trailer
Promo Banner – 1920×1080
App Icon – 1024×1024
Animated GIF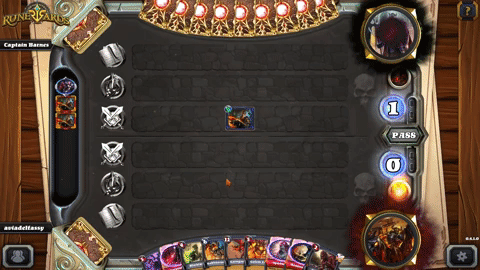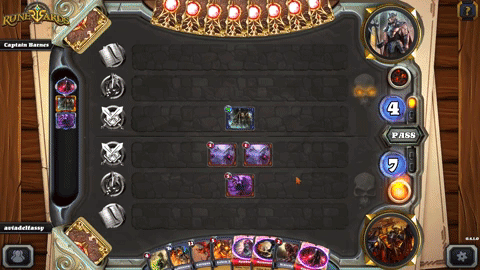 Screenshots – 1920×1080