Idle Arena – Clicker Heroes Battle
Facebook
Discord
Facebook Fan Group
VK.Com
Naver.com
Instagram
Developer's Note
Since Facebook recently removed the ability to Create Notes, we will add Developer's Note here and on Discord.
The Late Developer's Note – December 18th, 2020
The Late Developer's Note – August 27th, 2020
Press, Reviews and Achievements
Achievement:
September 13, 2020 – App Store Game of the Day in SEA
September 11, 2020 – Play Store New & Updated Games in Asia
July 6, 2020 – App Store Game of the Day in UK and Ireland
April 24, 2020 – Featured in "Coming Soon" category on the App Store
March 6, 2020 – Featured in "Be the First to Play" category on the Play Store
Review:
December 21, 2020 – "Overall, the Idle Arena app is full of stunning features and functions." – androidappsforme.com
December 20, 2020 – "We are in love with this clicker-game." – apppearl.com
October 19, 2020 – "Underrated Role Playing Games To Play on IOS" – gameskeys.net
May 8, 2020 – "… xứng đáng để bạn lựa chọn và trải nghiệm" – taimienphi.vn
Press:
August 1, 2020 – "…a fantastic app" – appoftheday.downloadastro.com
March 17, 2020 – "Kahramanlara Tıklayarak Savaşın!" – mobidictum.com
March 7, 2020 – "casino licence" – utländskacasino.biz
February 25, 2020 – "Si amas un buen juego de rol inactivo, Idle Arena bien podría hacerlo por ti" – laglvl.com
February 24, 2020 – "If you love a good idle RPG…" – droidgamers.com
Game info
Release Date: Early Access on the Play Store worldwide (iOS TBA)
Platform: Android, iOS
Guide: https://immortal-games.webnode.cz/darkest-dungeon/
Embark on a new and exciting futuristic idle game. Earn and collect loots even when you are AFK!
=== FEATURES OF IDLE ARENA GAME ===
Collect, Level Up and Upgrade Your Heroes
Recruit your heroes from an intergalactic bar from commoners to the immortals. Train them up to become a fearsome warriors and evolve them to achieve their full potential.
Strategic Battles
Choose your troops wisely and unleash special skills at the right time for maximum effects to dominate the Idle Arena battleground.
Loots, Rewards and Treasures
Over 100 items and equipments to collect. Luckily, there are plenty to go around and resources are everywhere. Some rewards accumulate even when you are AFK as your troops continuously battle the enemies.
Fight Your Way in Different Gameplay Modes
Campaign modes, tower trials, world boss, and more! Lots of challenges awaits you to test the limit of your heroes. Can they handle and defeat the powerful enemy hordes?
Forge Alliance and Form Guilds (Coming Soon)
Call your friends to join the fight against the enemies. Aspire to lead the strongest guild in Idle Arena world.
=== WHAT IS IDLE ARENA? ===
It is an idle game that is set in a futuristic world with 4 different factions, each with their own strengths and weaknesses. Players can recruit heroes which then can be used to progress in the campaign mode and fight against the enemies. Your heroes will become stronger as they gain level as well as equipped with armors and weapons.
Earn rewards by completing quests, winning battles and even when you are idle and AFK. You will see treasure loot chest fill with resources when you come back to the game!
Lastly, visit and play the different gameplay modes to access more rewards and different challenges.
Enough talk, let's play and battle!
Preview Trailer
Gameplay Trailer
App Icon – 512×512
Animated GIF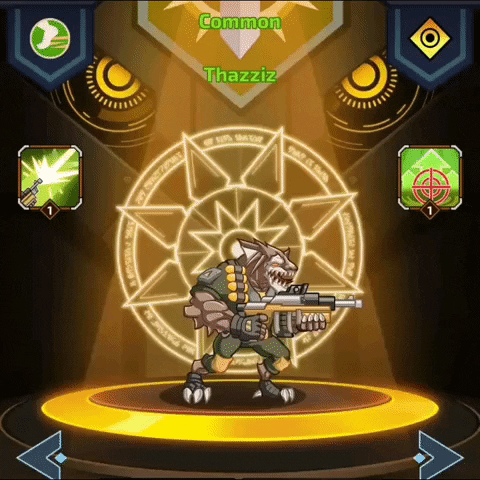 Screenshots – 1920×1080