Press, Reviews and Achievements
Review:
"I can see I am President taking a permanent seat on my iPhone, which is why I am giving I am President a 10 out of 10 with a label of "silly"." – homeofnerds.com
"If you liked the game REIGNS then you will love I Am President. Has lots of humor and cool graphics." – graygamereviews
""I am President" is one of the more entertaining mobile titles out there today." – gmanetwork.com
Press:
March 28, 2017 – JADILAH PRESIDEN MELALUI GAME I AM PRESIDENT – papangame.com
Achievements:
"Top 15 BEST NEW Games For Android/iOS 2017 – March 2017" – YouView
Facebook Contest
Head over to our Facebook post and enter the contest by designing a scenario for I Am President game. Post a creative, interesting or funny scenario and it may be included in the next update. You will also win the game for free when it is finally release globally at the end of the month. Time to get creative!
Game info
Release Date: 28th March 2017
Platform: iOS
Imagine that you are the President and reign over the most powerful nation in the world. What would you do? Invest more in public health care? Build more weapons to prepare for Alien invasion? But not to worry, most of us will never have the luxury to be the President… BUT, what if you could?
Welcome to I Am President game where you get to be the President who will make the calls to make your country better (or worse). Every decision will affect your wealth, approval rating, security and population. Do not tempt your fate. Keep those factors in check and balance. But remember, too much of a good thing can also be a bad thing! So, beware!
I Am President will test your wits to see if you are fit to become a leader of the country. How long can you stay in power before you are overthrowned by the people. Even if the people love you, can you avoid some "accidents" that will cut short your presidency reign?
=== FEATURES OF I AM PRESIDENT ===
Over 150 funny, satirical scenarios based from current events and pop culture
Includes 15 unique characters to interact with, 6 special events and 12 possible endings
No complex controls. Simple A or B decision done by either swiping left or right
Simple gameplay, no tutorial needed
Choose your own adventure style with every decision will affect your ending
Highly replayable


Appease your citizens by passing resolutions that maintain the powers of state, combat internet trolls and fend off alien invaders of the extraterrestrial kind! Do you have what it takes to lead the nation to greatness, or will you run the country to the ground?
Download and try I Am President game on the App Store now!
Fans' Video
Preview Trailer
Promo Banner – 1600×900
App Icon – 1024×1024
Animated GIF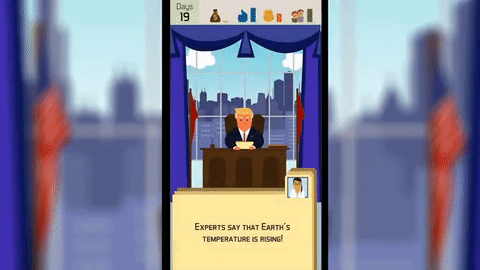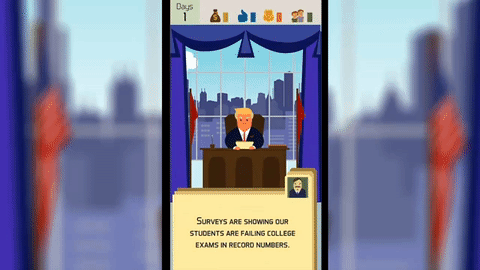 Screenshots – 1536×2048