Press, Reviews and Achievements
Review:
"…it's a really exciting PVP title to take part in." – pacific.network
"A solid mobile game that deserves more attention" – rappler.com
Press:
May 17, 2017 – '…ist ein neues F2P-Strategiespiel mit fliegenden Piratenschiffen' – iplayapps.de
May 16, 2017 – 'In a game, I really love PVP and having to strategize against a mind of another player. Heroes Above does just that.' – profg.io
May 16, 2017 – 'Casual Strategy Game 'Heroes Above: Sky Clash' Is Now Available Worldwide' – toucharcade.com
January 27, 2017 – 'Heroes Above: Sky Clash' Is Hunting for Beta Testers – toucharcade.com
Achievements:
"Top 100 Games of Casual Connect Indie Prize" – Singapore, 16-18 May, 2016
"IMGA SEA 2016 Nominee" – November 2016
Game info
Release Date: 16th May 2017
Platform: iOS
Heroes Above Sky Clash takes players into a high flying real-time strategy game the combines RPG, tower defense and resource management elements. Collect, train and evolve your heroes to create the perfect squad for battles in the sky. Purchase new warships to gain advantage even before the battle begins!
GAMEPLAY
Players are to deploy their heroes before the battle begins. As the battle starts, the heroes will try to board the enemy ships and start their onslaught. Summon more units to overwhelm the enemy. The objective is to destroy the enemy's mysterious crystal that powers their flying ships.
Beware, however, attacking blindly without a strategy will quickly lead to a defeat. Develop the ultimate battle strategy, dominate the skies and make a name for yourself among the heroes above!
==== FEATURES OF HEROES ABOVE SKY CLASH ====
Recruit heroes with 9 basic types, each with 2 advance forms
Expand your island and gather more resources
Purchase and try new warships
Battle other players online and take claim of their resources
Tile-based real-time strategy game
Pre-deploy your heroes before battles
Vibrant and colorful graphics


As Captain of your very own Sky Ship, scout and train your crew of Heroes to defend your home! Summon raging barbarians, explosive fire mages, even dead-eye gunners. There are over hundreds of unique play styles to choose from!
Teaser Trailer
Preview Trailer
Feature Trailer
Promo Banner – 1024×768
App Icon – 512×512
Animated GIF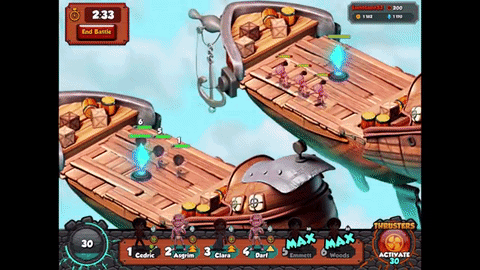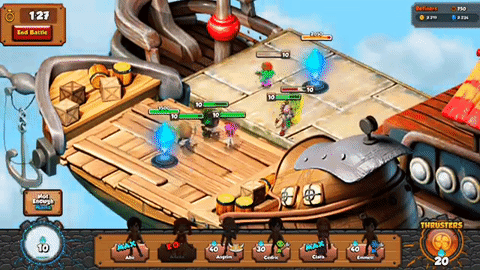 Screenshots – 1024×768