Press, Reviews and Achievements
Review:
"8.5/10 Eternal Maze is a game that's easy to recommend." – January 5, 2017 – gamegrin.com
"…suffice to say it is the perfect time killer for mobile devices." – December 13, 2016 – gameramble.com
Press:
Eternal Maze, A Top Down Puzzle Adventure Arrives On Steam Greenlight – March 30, 2017 – bigbossbattle.com
Лучшие игры для телефонов – Мобильный гид с Azzy (14 декабря) – December 14, 2016 – gamemag.ru
If M. Night Shyamalan's Signs was reimagined as an SNES game, it might look like this one. – December 11, 2016 – androidpolice.com
Consigliato agli appassionati del genere! – December 9, 2016 – xantarmob
Eternal Maze is a new puzzle adventure game inspired by crop circles – December 9, 2016 – droidgamers.com
Eternal Maze is a cracking retro puzzler based around crop circles and endless mazes… – December 8, 2016 – pocketgamer.co.uk
Charming Puzzle Adventure Game 'Eternal Maze' Is Inspired by Crop Circles – October 11, 2016 – toucharcade.com
益智游戏《永恒迷宫》即将上线 源于麦田怪圈 – October 10, 2016 – gamemei.com
Game info
Release Date: 8 December 2016
Platform: iOS and Android
Eternal Maze is a puzzle adventure game that is inspired by the crop circles that have been popping up all over the world, created by Aliens.
Setting/Story:
It is about a farmer who is trapped in mazes that are created by the Alien mind. The farmer will need to find an exit to escape. But Alas! It is not as easy as it looks. Players will need to solve riddles, navigate through the endless maze, avoid obstacles and ferocious dogs and use random items correctly to find the exit.
Gameplay:
Lead the poor old farmer to the exit so that he can be on his way to the next maze and be a little closer to getting out of the maze. Use available items and abilities in order to find your way out. However, there are also buried treasures in the map. Find, collect and dug them for extra scores and earning the corresponding achievement badge.
Beware, though, there are creatures in the maze which will try to stop you from getting out of the maze. The creatures can be avoided and some will not attack immediately. But, if they get wary, there is only one thing left to do… RUN!!!
Features:
3 main chapters with different scenes and theme (1 chapter available on launch date)
A total of 36 levels to play (and more in the future)
7 different items that will either help or break you
11 different interactive objects in the maze
12 achievements to unlock (more is coming)
Retro pixel graphics
Arrow keys control for precise movement
…and more!
Get ready for a brain work out to solve the mazes. Solve the maze, save the farmer, save the world!
More artwork, screenshots and video trailer is coming soon. Stay tune!
DevLog – Eternal Maze's Icon Journey
Coming up with the best icon is never easy. Eternal Maze changes icons 7 times before coming up with the final version for its first release. We shall share our journey for picking the perfect Eternal Maze icon (at least it is perfect for us).
Icon #1
Eternal Maze is a puzzle adventure game with an alien/crop circle theme. Naturally, we were going for an icon that embodies aliens, planets and stars. However, after a while, according to many people, the star that we had, was not be a good representation of the overall gameplay. Therefore, we had to change.
Icon #2
For the next icon, we were going for a look that were taken directly from the game. We chose a scene where the farmer was drunk and holding a beer bottle. We thought it was hilarious. However, we immediately realized that this would not be suitable for the general age group.
Icon #3
Then, we moved over to use the game death scene (though, from the icon, it cannot really tell if the dog was just being friendly or had the intent to kill). We ffelt that the icon still did not show how the gameplay.
Icon #4
Then, we quickly prototyped another icon where the farmer jumps onto the rabbit hole (the hole is not even in pixel art). Now, this felt like a death scene where the farmer falls down into a bottomless pit. For this reason, this icon could not make the final cut!
Icon #5
So, after 4 failed icons, we thought that, maybe, just maybe, it was necessary to come up with something different with a totally new look and feel… nahhh.
Icon #6
A new look and feel definitely obviously did not work. So, we went back to the roots and, this time, we were going for an icon that shows the farmer's emotion, running around in a maze, panic. We all like this icon. It was nearly our final icon until we decide to sharpen and improve it…
Icon #7 – FINAL
A few touch up, a few shines and some pixel-arting improvement, we finally have the Eternal Maze game icon!
Eternal Maze Announcement Trailer
Gameplay Video by techzamazing (First 3 levels – SPOILER ALERT!)
Promo Banner – 1920×1080
App Icon – 512×512
Animated GIF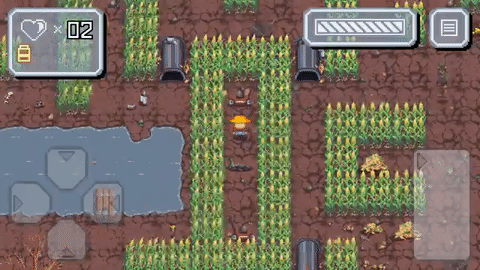 Screenshots – 1920×1080