Press, Reviews and Achievements
Achievement:
February 13, 2018 – Featured in the daily list "Valentine's Day Fun" on the App Store worldwide including US and Canada
February 09, 2018 – Featured as "Best New Game Updates" on the App Store in 52 countries including US and Canada
June 02, 2017 – Featured as "Best New Game Updates" on the App Store in 52 countries including US and Canada
April 28, 2017 – 560,000+ downloads on its FIRST WEEK of release and featured as "New Games We Love" on the App Store in 76 countries at launch
April 28, 2017 – Ranked #1 in 50+ countries under Free Games/Sports category during launch week
Review:
February 15, 2018 – '5 stars – fun… challenging…colorful' – baixarjogosparaandroid.com.br
February 12, 2018 – '…the best new arcade sports game that is originated from the popular challenge among footballers and fans alike.' – androidpolice.com
May 2, 2017 – '…un originale gioco sportivo per iPhone!' – xantarmob
April 26, 2017 – '…ist ein solides, aber doch recht schnell eintönig werdendes Arcade-Game für iOS.' – iplayapps.de
Press:
May 30, 2017 – 'Super Crossbar Challenge Bares It All – Getting Featured And What It Means' – playplayfun.com
May 11, 2017 – 'Crossbar Challenge: o sucesso de uma aplicação portuguesa' – p3.publico.pt
May 4, 2017 – 'Tips, Cheats & Tricks: 5 Hints Every Player Should Know' – levelwinner.com
May 4, 2017 – 'O jogo português com mais de 550,000 downloads na App Store' – eurogamer.pt
April 27, 2017 – 'Tapez la transversale comme un pro avec Super Crossbar Challenge' – iphonesoft.fr
April 26, 2017 – '…is a new arcade sports game that is originated from the popular challenge among footballers and fans alike' – profg.io
April 25, 2017 – 'Go Kick Your Way to Glory' – toucharcade.com
March 20, 2017 – 'Super Crossbar Challenge' Looking for Testers in Our Forums – toucharcade.com
Contest Rules, Terms and Conditions
We are having a DESIGN-A-BALL contest on facebook. We would like to keep it simple, fun and enjoyable for everyone. However, please keep take a look at the rules, terms and conditions for the contest.
Rules
Participants are allowed to submit multiple entries.
Winners are decided based on the number of likes and shares. Super Crossbar Challenge will be the unanimous tiebreaker in the event of a tie
Winners will be announced May 15th, 2017.
Participant are to work on the provided ball template, 1600×900.


Prizes
1x Unlock All promo code
2x 30000 coins + WC ball + MADDY player promo codes
3x 10000 coins + WC ball promo codes


Terms and Conditions
Participant acknowledges that the design is original and it copyright fully belongs to the participant.
Participant indemnifies FredBear Games, PlayPlayFun and Shattered Box against any liabilities against any legal action againts participant's entries.
No offensive materials allowed including pornography, graphic violence and racism.
Design must be an illustration (no photograph is allowed).
No country flags are accepted.
We reserve the rights to use and modify all entries in Super Crossbar Challenge including any promotion materials and in-game items.
All decision is final and will not be altered.
Game info
Release Date: 25th April 2017
Platform: iOS
Super Crossbar Challenge is a new arcade sports game that is originated from a new popular challenge among footballers and fans alike. The idea is for you to hit the crossbar instead of putting the ball into the net. Why? Well, for starter, if you can consistently hit the crossbar, it shows that you are skillful and accurate! Moreover, there's something satisfying about hitting the crossbar. You'll find out when you hit it!
Not the slightest idea yet what we are talking about? Watch Sergio Kun Aguero and David Villa duking it out on a Crossbar Challenge at the City Football Academy.


=== GAMEPLAY ===
Players are to swipe right to shoot the ball. Keep in mind the angle and power that you are swiping because it will determine the direction and speed that the ball will go. Once you find the sweet spot, remember it!
You may also perform bicycle kicks and volleys to earn more coins and fans. In the arcade mode, some of the goals will require players to perform multiple bicycle and volley to hit the crossbar.
Use the hard earned coins to unlock new characters and balls, in which, some of them have their own bonuses that will help you in the game.
=== FEATURES OF SUPER CROSSBAR CHALLENGE ===
Based on the highly addictive real life crossbar challenge
Arcade mode – contains 12 countries, each with 3 progressively more challenging goals
Earn fans to unlock more countries
Play 3 cup modes for rewards
Unlock 50+ balls design (some has special features)
Unlock 30+ characters (most has bonuses)
Cute cartoonny graphics
Simple one finger control
Hourly reward pack
… more features to be announced
Are you ready to be the king of crossbar challenge? Look forward to the upcoming Super Crossbar Challenge game on the App Store!
=== KNOW YOUR KICKS! ===
Since the release, we have had several queries regarding how to perform certain kicks. There are a total of four different types of kicks in Super Crossbar Challenge and here they are:
1. Normal Kick
There's not much to introduce about this kick. Swipe the screen during dead ball and you'll perform a normal kick.


2. Bicycle Kick
Slightly trickier from normal kick. Here are step by step instruction on how to perform a bicycle kick.
Tap on the screen so that the ball goes up
Wait until the ball falls down to around your head
Swipe to the right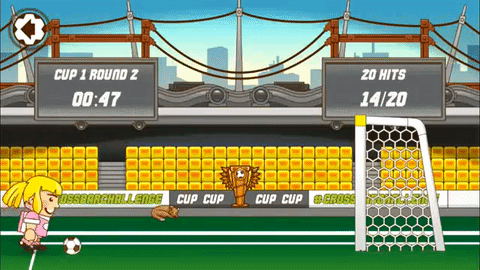 3. Volley Kick
Based on players' feedbacks, performing volley kicks is arguably one of the more difficult tricks to do. It is not you, it is us. We do intend to make volley kicks a bit more challenging to perform than bicycle kicks. However, if you follow these steps, it is not as difficult as it seems, though timing is key!
Tap on the screen so that the ball goes up
Wait until the ball falls down to just below your waist
Swipe to the right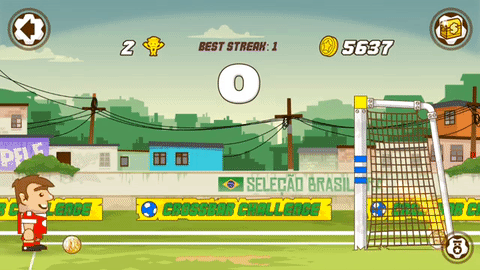 4. Balloon Kick (Shot)
Balloon shots are the most popular in our support emails in which players are asking for advice on how to perform balloon kick. There is one important factor to perform a balloon kick. Please check it out below:
Swipe on the screen and aim high
Make sure that you swipe fast enough for more power
Watch your ball go out of the screen (yes, this is a requirement)
When the ball returns on the screen, it must touch the crossbar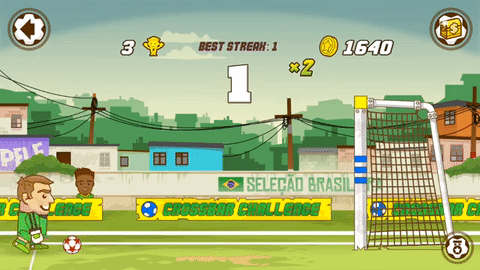 Official Trailer
Preview Trailer
Promo Banner – 1200×600
App Icon – 512×512
Animated GIF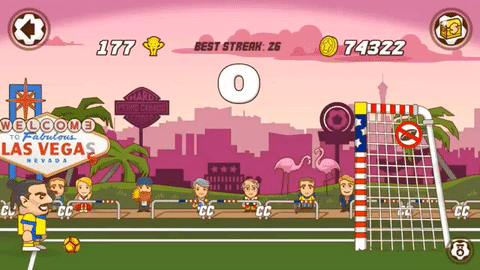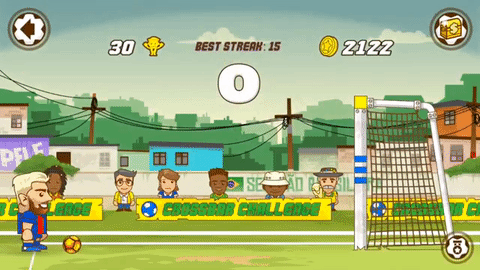 Screenshots – 1024×768